As one of the biggest electrical contractors in the Chicago metropolitan area, Super Electric Construction Company is the contractor that will provide cutting-edge solutions for your commercial, industrial and institutional electrical demands.  

Our company's history of successfully completing projects is based on the following:

The Super Power Team
Our team of professionals, from our highly qualified electricians, engineers, project managers and entire support staff, is with you from start to finish.  We are continually building upon a tradition of excellence and have the expertise to complete today's challenging electrical projects.   

Safety In Our Awesome  Numbers
Our safety-first commitment coupled with the latest technology available empowers our employees to maximize our success on the job and as an organization.  As a direct result, we consistently maintain an EMR that is much lower than industry averages.

Total Customer Satisfaction
Not just a slogan, it is our way of doing business since 1936.  Still family owned and operated, we take great pride in our long-standing reputation and proven ability to complete projects on time, within budget and safely.  We benefit from repeat business by building strong relationships with owners, general contractors, engineers and architects.  With Super Electric as part of your construction team, you can depend on a job done right… the first time.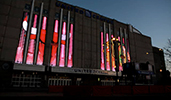 View our United Center Project here >
Super Electric Construction Company
Chicago's Power Team Since 1936